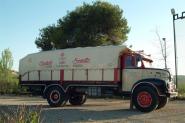 On the 29th December 1983, a toast was drunk for the first time in the cellars at "Castell dels Sorells", to celebrate the appearance of the first Valencia Cava.

Our current headquarters in Turis (Valencia), are built in the style of a 15th century Valencia castle. Nine meters below the Castle, the wine cellar offers silence, darkness and rest, and excellent conditions of temperature and humidity.

Craftsmanship symbolises our winery. The special care and attention lavished on cavas from Castell dels Sorells give them a magic touch.